Purpose
This site is a personal collection of SWAPS.  These are shared ideas to help young scouts make their own simple and fun SWAPS to share at events.  There are several SWAPS theme pages to get ideas from.  Have fun looking at them and sharing!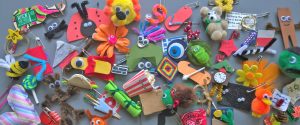 ---
SWAPS – Definition
The traditional Girl Scout definition of the acronym is:
Special Whatchamacallits Affectionately Pinned Somewhere.
SWAPS are an easy way to share a memory from a scouting event.
They are a fun and simple way to meet new friends by exchanging small, usually homemade, trinkets with one another.
Scout day camps, overnight camps, jamborees, and other gathering type events are great for exchanging SWAPS.
---
SWAPS should include the following elements:
Information about the event
This might include the event name, date, and place of the event.
Information about the giver
This might include the scout's name (or scout's camp name), address, or email so they can stay in touch with their new friend.
Information where the giver is from
This might include the country, state, scouting council, or troop number the giver is from. This is especially meaningful for national or international events.